These Nutella Brownies are quite simply AMAZING! I'm not exaggerating either. They bring together all that is fabulous in Nutella and a Brownie to make something moment stopping.....so help me....and now you.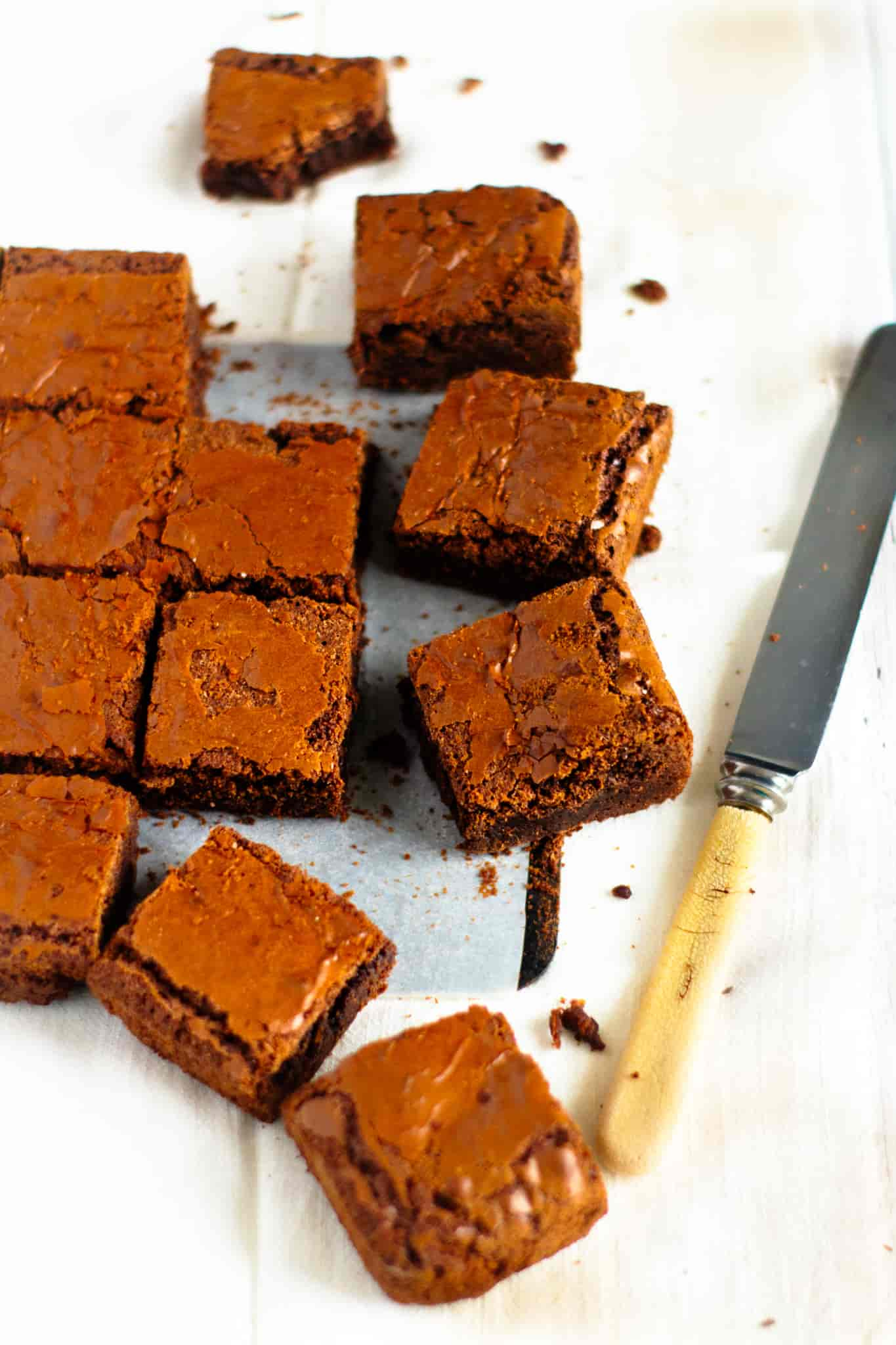 I am slightly obsessed with Chocolate Brownies of all descriptions. My own
Chocolate Brownie recipe
is my go to, my heaven my own chocolate nirvana. I thought none could challenge it........But I now have a close second. These Nutella Brownies are very good indeed. Try 'em and tell me they're not.
Another massive plus is that they are so easy it just doesn't seem right. I make them from start to finish in a saucepan. No flipping way...
Do scroll down for the complete recipe card below.
How Do I Make Nutella Brownies From Scratch?
First of all you line your non stick baking tin. I use a Bake-O-Glide liner that is cut to the shape of my 8" square tin.
You melt the butter and Nutella together in a saucepan over a gentle heat. This whole recipe is made in the one saucepan. Serious Bonus.
Add the caster sugar and stir well until it's smooth.
When making Brownies I recommend always using white caster sugar as the unrefined golden caster sugar doesn't give a smooth top to the Brownies.
This isn't the end of the world in Brownie Land as having a craggy top doesn't stop them being delicious but I think they look better without.
Add the eggs and stir until they disappear, followed with the flour and cocoa.
Mix the pants off it until it is shiny and smooth. Fill your lined pan with the brownie batter.
Bake at 170 C for about 30 minutes. So simplessss.
I leave them to cool in the tin but do run a knife around the edges to make sure they don't stick. I just line the bottom of my non stick tin.
Slicing Brownies is a careful affair. You need to not apply too much pressure with your knife due to the fudgy middle (ditto).
Sawing until you've cracked through is the best idea followed by a gentle push downwards. A sharp knife is best and wipe it after every slice to keep clean edges.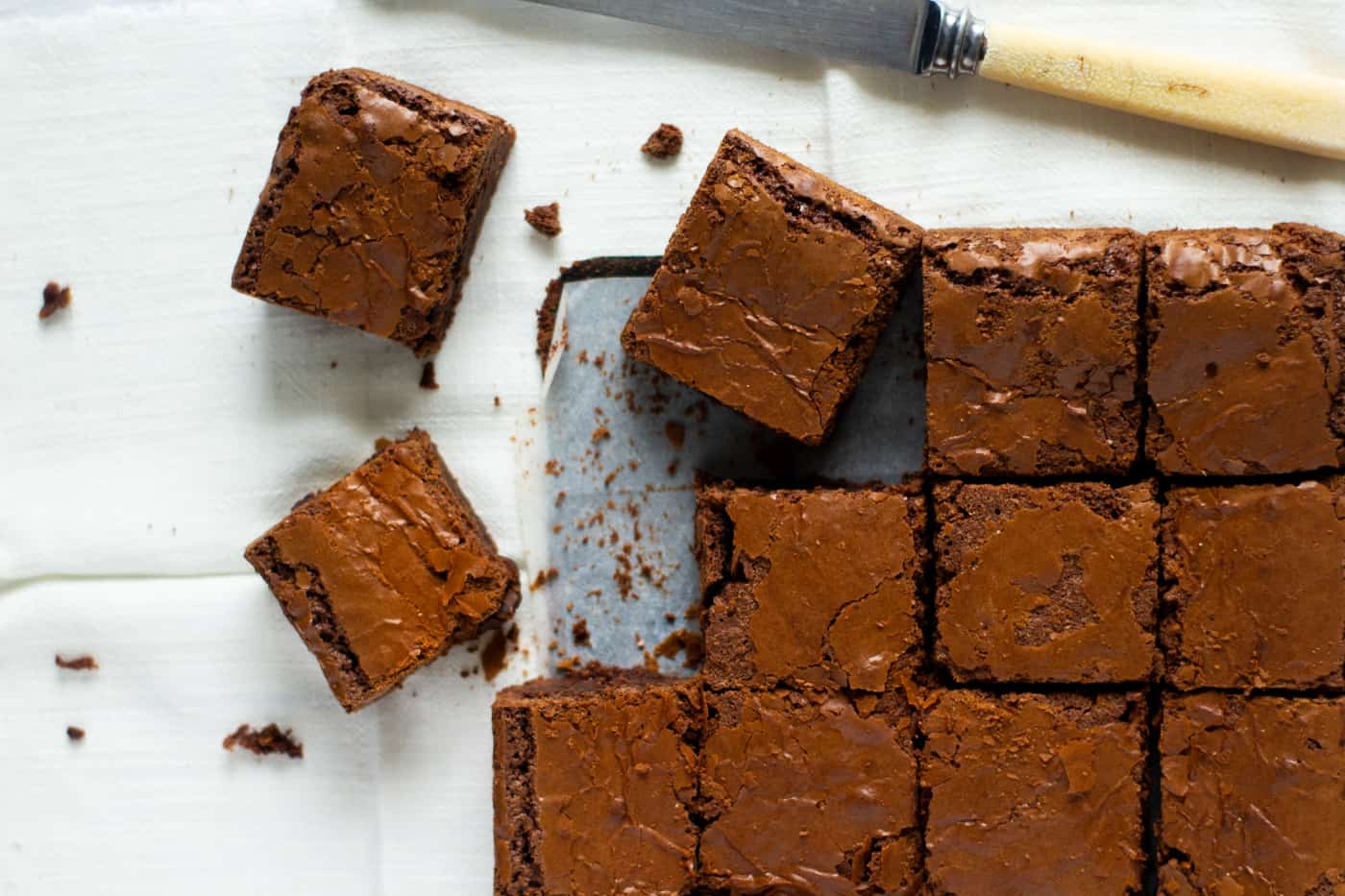 They do keep very well in an air tight tin/tupperware sandwiched betwixt and between with greaseproof or baking paper.
To make them Gluten Free simply substitute Gluten Free Plain Flour for the standard Plain.
Hummina....Hummina.....
What Makes A Fudgy Brownie?
How long you bake them for basically. You want to bake it until it is only thinking about beginning  to be cake like. It will carry on setting as it cools too. It is a matter of experience really to get it right every time. I usually want the middle to still be very, very soft when I take them out of the oven.
I have actually put them back into the oven before now to bake a bit longer when I have gone to cut them and realised they are too fudgy.
Can You Freeze Brownies?
The answer to that is yes. Wait till they are absolutely cold. I advise you freeze them intact and uncut in the Brownie slab (wonderful phrase).
Wrap them in a double layer of cling film and then a double layer of silver foil. To thaw simply leave them uncovered at room temp for at least four hours. Slice carefully as above.
Equipment Required
Digital Scales
Saucepan
Wooden Spoon
Baking Tin Liner/Baking Paper
Baking Tin - mine is 8 " loose bottomed square tin
Knife
Here is another INCREDIBLE Easy Nutella recipe-
And some more easy recipes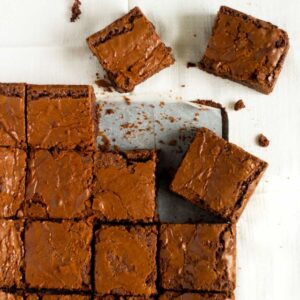 Nutella Brownies
These Nutella Brownies are out of the ball park delicious and crazily easy to make.
Ingredients
125

grams

unsalted butter

200

grams

Nutella

300

grams

caster sugar

3

large

eggs

beaten

130

grams

plain flour

40

grams

dark cocoa
Instructions
Preheat the oven to 170 C and line an 8" square tin or 6" by 9" or similar.

Put the Nutella and butter in a saucepan and melt gently whilst stirring with a wooden spoon.

Take off the heat and mix in the sugar first followed by the beaten eggs. Add the flour and cocoa and mix until glossy and smooth.

Pour into your baking tin.

Bake for 30 mins or so. I use a tooth pick at 25 mins. If the toothpick comes out with only a couple of crumbs then it's done.

Cool in the tin. Cut into squares.

Apply to Rolling Eye'd Face.
Notes
I like to use white caster sugar when baking Brownies to get a smooth top.
I use a Bake-o-Glide liner cut to fit my 8" tin.
Try not to open the oven until 25 mins have gone by. You can then test the doneness with a tooth pick quickly.
Return them to the oven if they are still too fudgy.
They do firm up as they cool but if you find that when you start to cut them they are too fudgy then return to the oven for ten mins or so more. I have done this after they have cooled for 15 minutes and it still works. I just leave the oven on so I don't have to wait for it to heat up again.
All nutritional information is approximate and intended only as a guide.
Nutrition
Calories:
338
kcal
|
Carbohydrates:
60
g
|
Protein:
5
g
|
Fat:
9
g
|
Saturated Fat:
7
g
|
Cholesterol:
70
mg
|
Sodium:
37
mg
|
Potassium:
199
mg
|
Fiber:
3
g
|
Sugar:
45
g
|
Vitamin A:
100
IU
|
Calcium:
42
mg
|
Iron:
2.6
mg
All nutritional information is approximate and intended only as a guide.
Tried this recipe?
Take a pic and tag @applytofaceblog on Instagram. I would so love to see them!
Do let me know how you got on in the comments below or come on over and join me on social media. I love a good old hairy chin wag.