As the rain really starts to fall in the U.K I am all about comfort food and these Beef Recipes featured below really called to the chilled, dampness within. How could you fail to not be warmed right through?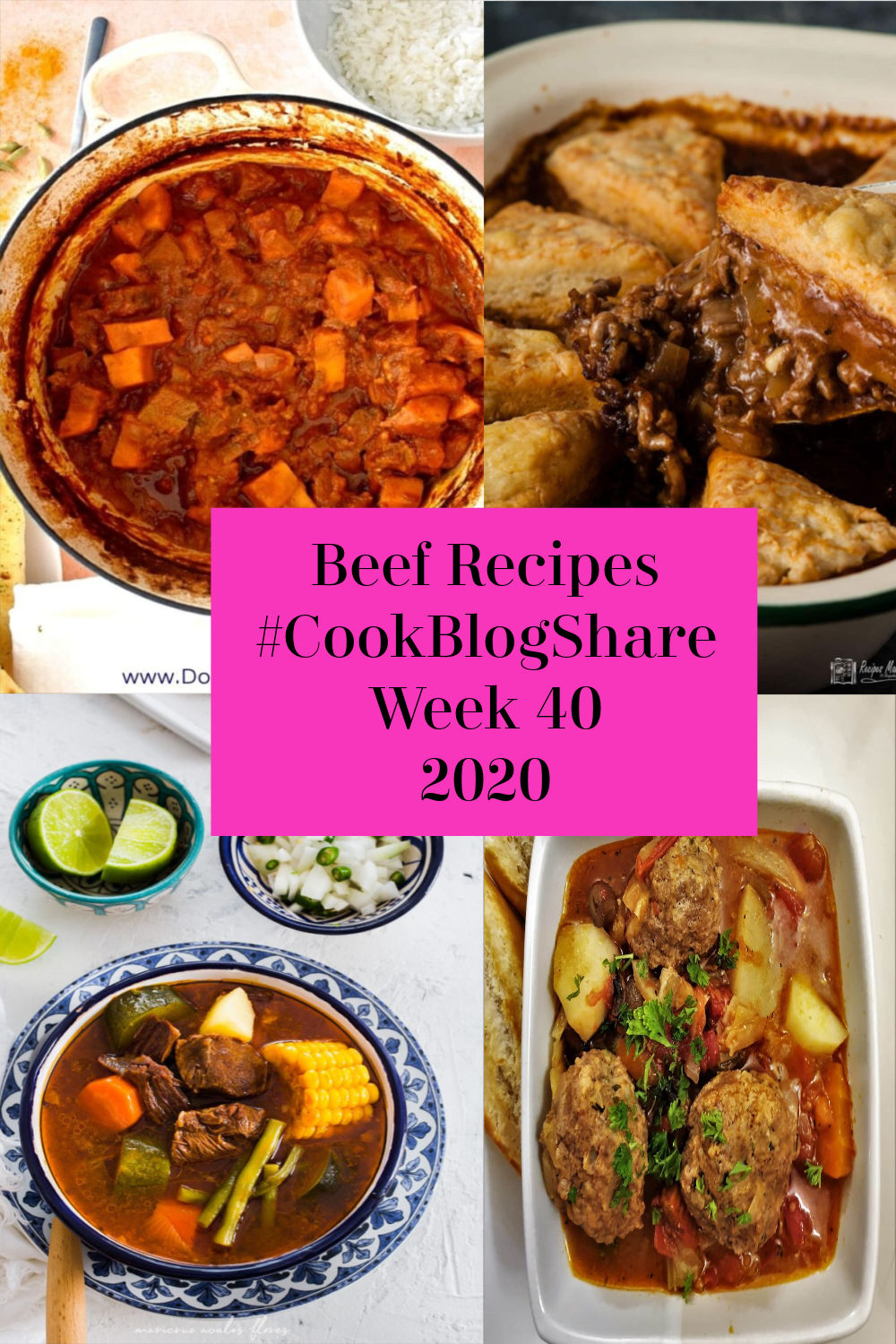 #CookBlogShare is a weekly link party where recipes are shared, we comment on each other's cooking creations and generally indulge in all things food related! It's the place where food bloggers can share their latest posts and for you to find new food blogs too.
So as the rain just keeps falling, what else can we do but be drawn to the kitchen? My head is filled with meal planning as my foodie yearnings change to stews, hot pots, pies and warmly spiced curries.
It is one of my favourite parts of the changing seasons. I love to welcome each with a change in menu. The older I get the more refined but exact (pedantic) that menu gets. But I am always on the look out for more great recipes and I fell in love with quite a few here. I'm beefily inspired.
Beef Recipes
I have a couple/loads of great beef recipes myself. In fact my Slow Cooker Beef Joint is one of the most popular recipes on my blog and the one I cook the most. It is my go to Sunday Lunch recipe and just the thing for this gloomy weather.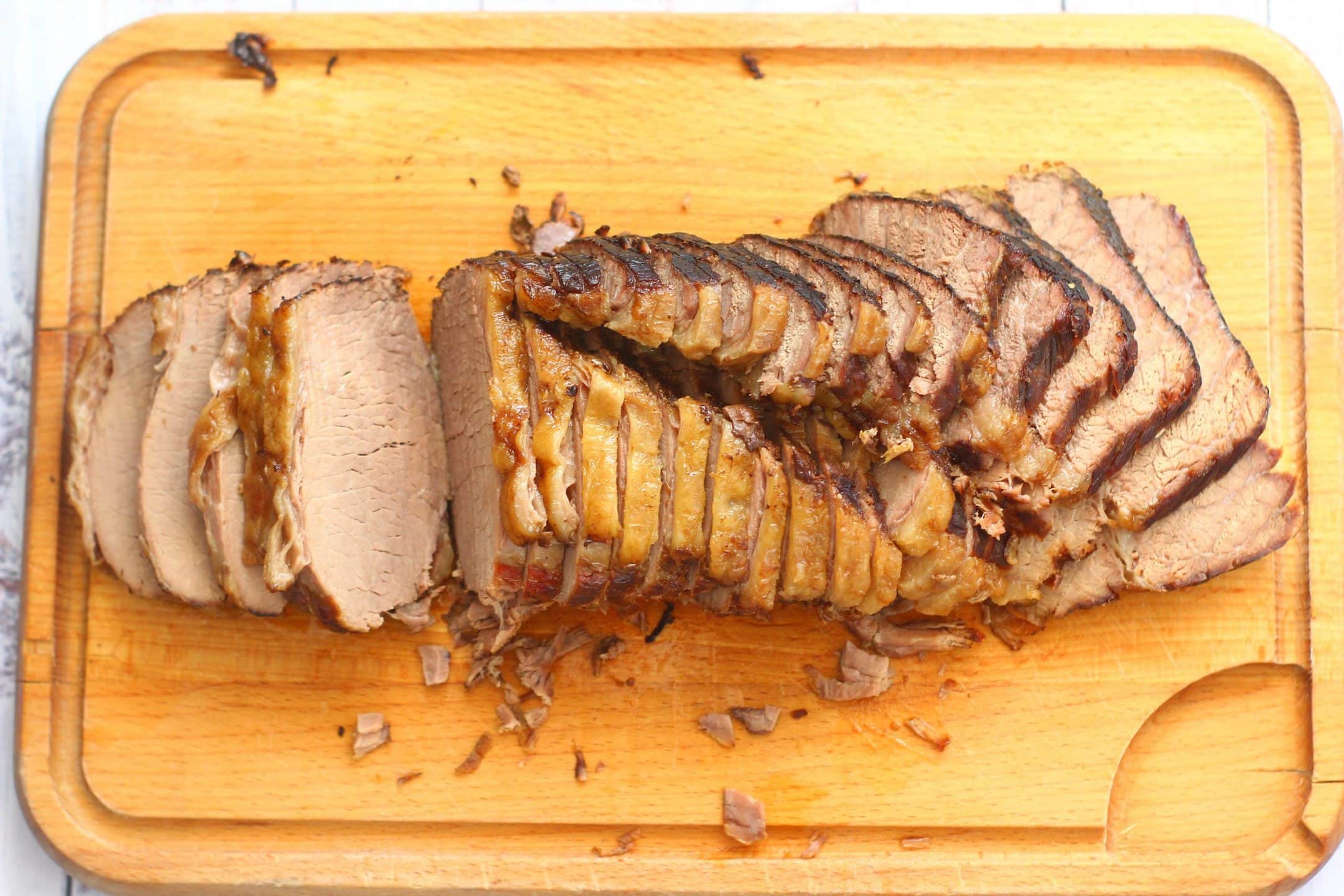 My Slow Cooker Beef Casserole is another family favourite. Stick some dumplings on there and I could eat it in the garden without a coat on.
So I could not help but fall head over heels at Recipes Made Easy Savoury Mince Cobbler.
My mother used to cook something similar at home and I have firmly resolved to add this recipe to my comfort food repertoire.
It is a savoury beef mince and onion filling topped with cheese scones no less! How delicious can you get? Look at that meaty gravy. I could dive right in.
The next recipe is Meatball Soup with Vegetables and Tomatoes from The Foodle Club.
It is a one pan big tasty bowl of juicy meatballs and vegetables in a beefy broth. Thrifty and a real family favourite. I love the fact that you can use up whatever vegetables you have in your fridge.
What I start to crave with the colder weather is warming Curries and this Beef and Sweet Potato Curry from Donna Dundas- fabulous family food, caught my curry eye.
It's juicy, tender and a healthier option than your usual takeaway. Big on flavour but super easy, you can mix up the vegetables here too. Great for a weekend fakeaway or family get together.
The final beefy recipe is the wonderful sounding Molle de Olla:Mexican Beef Stew from Maricruzavalos.
It is a one pot soup and not spicy so all the family can enjoy a big bowl with ease. At it's heart is a broth made from the bones and meat together with some vegetables, chillies and spices. The result is a richly flavoured, smoky soup made the old fashioned way.
Cinnamon Sweet
Above all else the colder weather makes me crave one spice like no other....cinnamon. So I just had to give these two recipes a #CookBlogShare shout out.
My own personal cinnamon recipe favourite/obsession are my fluffy Cinnamon Rolls. Some days I have to stop whatever I'm doing to make them immediately. They bring me such joy. I'm not joking! It is such a wonderful spice and teamed with sugar and flour some serious foodie shizzle occurs.
Pumpkin Cake from Lost In Food.
This cake is full of warming spices, ginger, cinnamon, nutmeg, with just a touch of clove and allspice berry. A perfect pairing for the sweet pumpkin. Sounds absolutely heavenly. Put the kettle on.
Chocolate and Cinnamon Shortbread from Tin and Thyme.
Chocolate and buttery shortbread with added cinnamon made in a free form circle and cut into moreish squares and sprinkled with sugar. This I just have to bake. Choclette does chocolate baking like no other!
#COOKBLOGSHARE 2020 WEEK 40
Next week the linky is hosted at Lost In Food
Non-bloggers – skip to the bottom of the page and click on the thumbnails that catch your eye to take you to the website where the recipe can be found. Remember they will be added to as the week goes on, so don't forget to pop back and take a look again later.
Bloggers Linking up this week?
You can link up any foodie posts you have. Both old and new posts are welcome as long as they have not been linked to #CookBlogShare before. All you need to do is:
Link up a recipe or foodie post by clicking the blue 'add your link' button below and following the instructions. You can link up to 4 posts.
Add a link from your post back to this post (so everyone else can find it and link up too!) and / or add the NEW #CookBlogShare badge to your post (Code below – for WordPress copy and paste the code below into the text view of your post).
Comment on some of the other recipes linked up here (at least 2 for each link added but the more you can the better) and generally share the love with a bit of social media action!
Plus comment on either this post or one of the posts labelled HOST in the linky.

 
Just to remind you, by joining in you are giving the #CookBlogShare hosts permission to use your pictures in a roundup and on social media if your recipe is selected as one of our favourites!
Don't forget to add #CookBlogShare to your Instagram post and check out/comment on what others are posting on the #CookBlogShare feed.
You can also post your recipe on the Cook Blog Share Facebook Page.
I will visit and comment on all the posts linked and I share them on social media.
I will also pin the recipes to our #CookBlogShare group board. If you wish, you can tweet me a link to your recipe @applytofaceblog as well as (if you have room on the tweet!) my co-hosts @lostinf00d using the #CookBlogShare hashtag and @recipecrumbs we will retweet all that we see.
Next weeks linky is over @Feast Glorious Feast
SO, IT'S OVER TO YOU. I CAN'T WAIT TO SEE WHAT YOU'VE ALL BEEN COOKING!
You are invited to the Inlinkz link party!
PIN FOR LATER!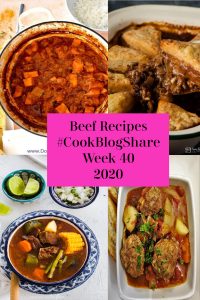 Here is another #CookBlogShare Linky