The rain is falling and then falling some more and my Christmas decs are to go up this weekend. My children are already hyperactively excited and I am beginning to feel the usual Christmas pressure to produce a magical yule whilst keeping track of eleventy trillion christmas commitments, elf comedy poses and donkey outfits. Primary schools seem to see this time as an opportunity to really up their fund raising to nuclear levels and I just can't seem to keep track/give a fig of all they must take into school. So many pound coins and tombola tat. Ho Ho Ho....not
At least we have the baking and I couldn't help but go with the delicious Cheese and Biscuit vibe that I saw in October's #BakingCrumbs entries.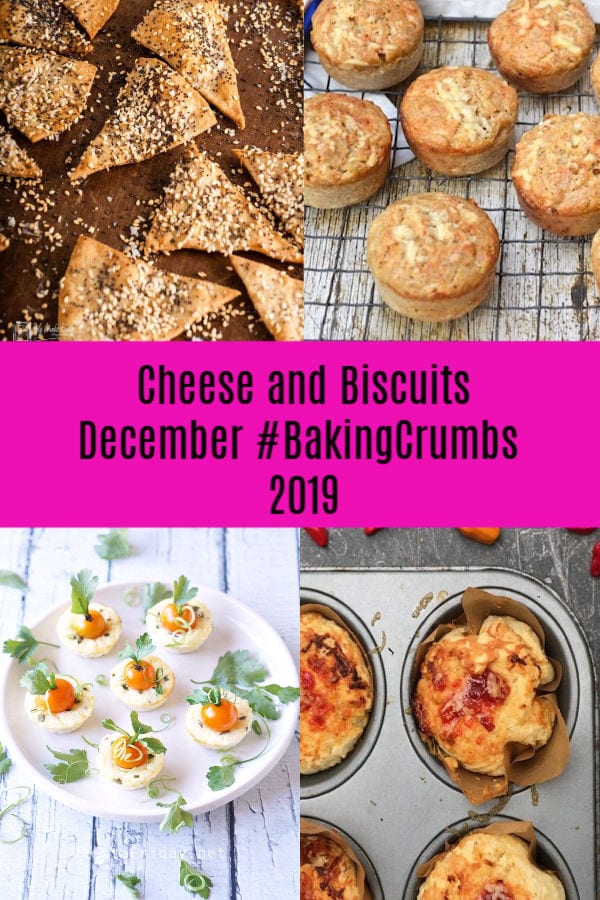 The baking with and eating of cheese is a subject very close to my heart. Something magical happens when you bake with cheese in my opinion and it is a very well researched one. For me it is one of the ultimate comfort food flavours and the cheesy depth given by baking with it just reaches comfort food spots that no other flavours seem to.
My own Easy Cheese Scones are a very popular recipe on my blog and every time I bake them I can't understand why I don't make a batch every damn morning. A cheese scone served warm and dripping in melted butter is an extremely uplifting experience!
Another incredible cheesy recipe is Easy Cheese and Ham Sliders. Great for feeding a ravenous crowd or shutting one up. The kitchen always goes silent. Oozing cheese and ham served in baked rolls, crispy and soft in equal measure and brushed heavily with garlic butter. Oh!!
My most popular cheese recipe on the blog is my Easy Cheese and Onion Quiche. Made without cream it is a quiche that is a taste sensation without being too rich. I always make my quiches with cream cheese instead of cream. The flavour is fabulous and allows the cheese to really shine. My Quiche Lorraine too is a real family favourite and I will have one baked in the fridge just to eat with cold cuts over Christmas.
So with my great love of cheese exposed I admit I couldn't help but be drawn to all things cheesy and the delicious delivery of said cheese. However I too felt immense baking love from all the entries and several gave me the #BakingCrumbs wink.
Enter these Cinnamon rolls without yeast or milk. Yes, it is absolutely possible to make cinnamon rolls without milk AND without yeast! Perfect for a quick breakfast or treat and ready in 40 minutes. You read that right… 40 minutes! I couldn't help but be drawn to these Quick No Yeast Cinnamon Rolls from A Baking Journey. Cinnamon Rolls are one of my favourite bakes and a recipe this quick really caught my attention.
This beautiful recipe for Vanilla Panna Cotta with Orange Jelly from Lost In Food also caught my eye. Panna cotta flavoured with vanilla and topped with orange jelly. Great recipe to get ahead and still deliver a centrepiece at Christmas. A real showstopper.
Gluten Free Alchemist linked up her INCREDIBLE A Gluten Free Christmas Gingerbread House. It's practically a hamlet actually. It personifies exactly the sort of Christmas I would love to give my children. Lots of icing, silver baubles and sweets.

Finally another #BakingCrumbs wink goes to this wonderful Baileys Chocolate Traybake from The Baking Explorer. An easy chocolate sponge that's infused with Baileys, plus some chocolate chips for extra chocolate flavour all topped with BAILEYS BUTTERCREAM for the love of God and all that is Christmas.
So on to the finale. My Cheese and Biscuit vibe for the #BakingCrumbs December 2019 linky.
First up is Recipes Made Easy's Easy Lavash Crackers. Like Jacqui I too am always looking for something as good as the cheese to actually put the cheese on. Wherever I go I can't seem to find anything quite to fit the bill. I never quite like the fancy pants biscuits enough to get excited so I love the fact that you can make your own easily with this recipe.
Jacqui says that " Crisp crunchy lavash crackers are easy to make and are delicious served alongside a cheeseboard or with dips."

Next up is Taste Botanical and her Cheese Muffins with Chilli Jam. What an incredible combo. Seriously.....These Cheese Muffins with Chilli Jam are really quick and easy to make and combine a delicious, gooey cheesiness with the hot-sweet punch of the homemade chilli jam. Wowsers...

Tin and Thyme also brought a cheese muffin to the party but this time the cheese is paired with apple. Another of my most favourite flavour pairings. My lunch most days is an apple with a chunk of cheddar. I take alternate bites. So I was in love at first sight when I saw these Savoury Cheese Muffins with Apple.

This last recipe is a truly wonderful one and an ode to Selma from Selmas Table, a good friend of Angie from Fiesta Friday. It is a delicate but punchy recipe a Mini Savory Cheesecake Appetizer that's so versatile you can serve it not only as an appetizer, but in a salad, a sandwich, or on a piece of toast, either warm or cold... the possibilities are endless! Absolutely perfect for delicious canapes this festive season.

What I chose to make in Apply To Face's Kitchen this month