Baked Onion and Garlic Cream Soup
This Baked Onion Soup is perhaps the best soup I have ever tasted. It is absolutely delicious and as soon as the weather cools, never far away from my thoughts. Everything about it floats my chilly weather boat from the taste to the texture, to the colour, it is just so good.
But first some nodding off…………
The saddlebags have lifted a little these past couple of weeks as my intake has become drastically reduced. With only being able to nibble I have had to turn away from most of my comfort foods. A friend who has also had her wisdom teeth removed advised me of this most positive silver lining and encouraged me to seize the opportunity to lose weight for Christmas and the obligatory festive outings. I love a Xmas outing, any excuse to have a little drink and bring a bit of glitter and gluttony to my life. I love how most people have an extra twinkle in their eye  and nights out bumping into old faces at Xmas always feels good……. I loves a twinkle. However my days of drinking glibly are over as I have the alcohol capacity of an old person very near death and with only one kidney. Most of the time after only a couple of glasses I just feel the overwhelming need to sleep. I feel like I'm in quicksand whilst everyone around me is up doing the Agadoo. Put a bit of festive dry turkey and microwaved to f.ck Xmas pudding in there and I'm snoring slumped over the Bendicks. I think the hotels are missing a trick here. Why not do a Xmas do package for the oldies at lunch time? We could be home for 4 p.m and a Nana Nap. They could double their revenue. Genius………
I'm hoping this is a peri menopausal thing and it will lift in about ten years when I have finished fully drying up. Just in time for the arthritis….. Perhaps then I will undergo a rejuvenation and regain a social life past 9 p.m. Wouldn't that be lovely dear?
Baked Onion and Garlic Cream Soup
As the nights close in and the weather drastically chills I think we all feel the need for a warm house and slippers. This Baked Garlic and Cream Soup is just that in a bowl. It is a juxtaposition of a soup. It is a taste sensation but in a very quiet way. It's flavours are large but gentle. A kind of loving cuddle from a giant and who could ever say no to that? It is soft, so velvety and perfect for a Xmas or Sunday Lunch starter. I think it is my favourite soup ever. Try pairing it with these babies for a real treat.
Baked Onion and Garlic Cream Soup.
Baked Onion and Garlic Cream Soup.
This soup is incredible.It is velvety and rich, perfect for the colder weather when the need for warming comfort is great. It is an absolute doddle to make and obvs can be made ahead and sit there waiting patiently for some heat. Seriously enjoy.
Total Time
2
hours
10
minutes
Ingredients
6

medium

onions

peeled and quartered.

2

heads

garlic

peeled but whole

1.2

litres

chicken stock

you could use vegetable stock

2

tsps

onion granules

1/2

tsp

ground black pepper

1

tsp

salt

4

sprigs

fresh thyme

40

grams

unsalted butter

300

mls

double cream
Instructions
Preheat the oven to 180 C. Pour the stock into a large roasting tray. Tumble in the onion and garlic and scatter over the salt, pepper and onion granules. Give a mix about and then strip the leaves from the thyme stalks and add those too. Finally dot the butter over the top.

Cover with silver foil and bake for 2 hours.

Remove from the oven and using a food processor blend the soup. Depending on the size of your processor you may need to do this in several batches. Make sure you blend it thoroughly.

Return to a saucepan if you are to eat straight away or a big enough dish if it is to be used at a later date. Add the cream and carefully season to taste.

Apply to monosyllabic but twinkly face........What might make me go a bit longer are these garlic rolls........
I have linked this Baked Garlic and Cream Soup recipe post with Cook Blog Share, Recipe of the Week and Cook Once Eat Twice at http://searchingforspice.com/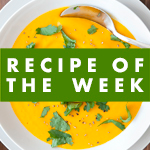 PIN ME FOR LATER